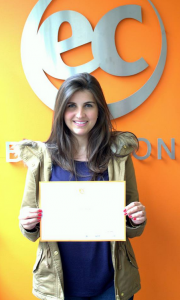 Ana Beatriz Bezerra from Brazil took a ten weeks English course with EC Brighton and chose our homestay Brighton accommodation. Here is what Ana wanted to share with us about her experience:
Coming to England and Europe was a dream come through situation for me. As soon as I arrived I got to know amazing people and started having interesting classes. All this really helped me to improve my English and to have a very important personal growth.
I loved every single minute I spent here and I will never forget all my wonderful friends and precious moments I experienced. Definitely the best ten weeks ever!
Thank you EC
Ana
Comments
comments