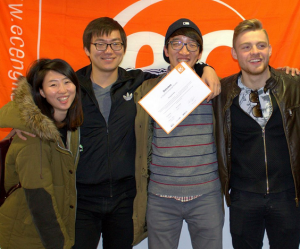 Soungouk Shin from Korea took an ESL Brighton course for nine months. Soungouk (also called Simon) joined our student ambassadors' programme and he has been instrumental in helping many new student in the integration process. Special thanks to Simon! Here's what he left us with on his last day at school:
It has been a great experience for me. I was a student ambassador in EC Brighton and this gave me the opportunity to meet and help so many students from all over the world.
I really love EC Brighton and I would like to thank everyone! I have fantastic memories about my experience here and I will recommend EC Brighton to all my friends!
Simon
Comments
comments