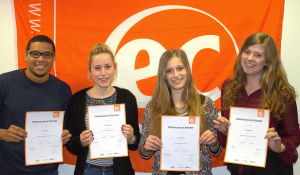 Stephanie Haas from Germany studied intensive English for four weeks in the EC Brighton language school. Here's what she wanted to share with us on her graduation day:
I chose Brighton because I wanted to enjoy the sea and the school location is great! I met lots of very friendly students and staff and I have enjoyed the British culture so much.
I chose to stay at EC St James residence, which is only 2 minutes away from the school and this is the best accommodation I could have ever chosen. As for activities Cream tea was gorgeous!
I would recommend EC Brighton to all my friends and I will miss you all when I have to leave
Thank you
Stephanie
Comments
comments