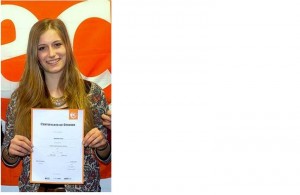 Hey everybody,
My name is Stephanie and I'm the new Student Services Intern who gives the reception in EC Brighton a leg up!
Before I started my internship two weeks ago, I passed a four week English course like many other students at EC Brighton. So now, it's even more interesting to work at EC, because I've gained an insight to the other side of the school.
At home, I'm studying Romances Language and Economics in the beautiful south-west of Germany. I'm going to intern here at EC Brighton for 12 weeks in which I will hopefully learn a lot and broaden my horizon's mind! Each workmate is very kind and I'm really looking forward to spending my time with them.
What I can tell you about Brighton. Well, essentially you have to know that you will probably find it such an interesting city, like nowhere else in the world! Every single time you walk through the centre you see the most crazy and various types of people. A kind of mixture which is very unique! Way-out pubs, inspiring and non-mainstream shops you will never find in another city, and the helpfulness of the people here impresses me every single day.
Living in an EC Residence is an everyday adventure. New students arrive all the time and you get to know such different personalities, lifestyles, life stories – fortunate but sometimes also unfortunate backgrounds. So you really get a different view about your own life and you realize how much you can count yourself lucky! Day after day you become a big family and aware of how close you're growing together.  I will definitely miss all the lovely, crazy people around when I have to leave.
I'm so happy I chose EC to study and do an internship; they are by far the best Brighton language school! I'm so grateful!
Stephanie 🙂
Comments
comments