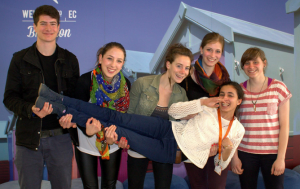 Hello,
My name is Berta, the new intern in the Accommodation Department at EC Brighton. I study International Management Assistant at Foro Europeo Business School (Pamplona) and I am going to do my internship in EC Brighton until the 13th June. I come from Sartaguda, a small village in the south of Navarra (Spain).
This is not my first experience away from my country, but I still felt nervous because of the new experience. I am very fortunate to live this experience and I hope during this time to meet new people from different countries and of course, improve my English.
My work placement brings me many things that will help me in the future and the environment is very nice, so I think I am going to have a really good time here.
I consider myself a sociable, responsible and hard-working person. I believe myself to be a kind person, so if you need something I will be happy to help or just to talk.
It is a unique experience to learn English in the UK, so my advice is that you may live it as best as possible!
Berta
Comments
comments