Jennifer Pfister from Switzerland studied Intensive English in our Brighton language school for four weeks. Here is what she wanted to share with us on her last day:
I did not learn just English. I learnt a lot about amazing people at EC and I had such a great experience.
I wish I could stay longer in this amazing place with amazing people!
Thank you EC
Jenny
Meral Akgun from Turkey studied at EC for 12 weeks, here's what he had to tell us:
I am really glad that I decided to come to Brighton. It has been an amazing experience.
Thank you EC
Meral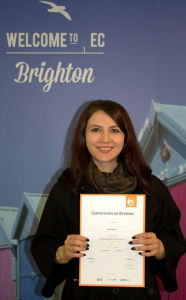 Comments
comments