Riccardo Maffi from Switzerland joined our General English course for four months. Here's what he told us on his last day at school:
This has been one of the best experiences in my life, thank you for everything!
Riccardo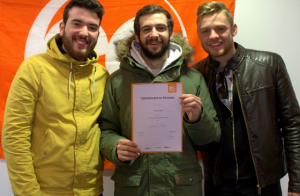 Nouruldeen Aboubakr Ali Hatweeshi from Libya studied at Brighton language school for nine months. He wanted to share his experience with us:
EC Brighton is the best school I have been to. I will miss EC, the teachers and all the staff. When I first arrive to England I could not speak English but EC enabled me to become good at English.
Thank you to everyone and best wishes!
Nouruldeen
Comments
comments