Luna Vivaldi from Italy chose EC Brighton English School because of all the positive experiences she had seen shared by others. She stayed with one of our lovely host families for eight weeks and learned a lot while studying with us. Here are her views on her time here:
"It was a great experience and I chose Brighton because I saw other people's experiences on the website and loved how it looked.
I improved my English and I met great friends. This experience has been important for my life, and now I have friends from many different countries!
Thank you for such a good time here!"
Thomas Gut from Switzerland stayed us for eight weeks and lived with one of our lovely host families. Despite the British weather, Thomas had a great time here! This is what he had to say as he departed:
"I really enjoyed my time here. I improved my English and the teachers were so amazing and creative. Unfortunately the weather was not very good, but England is a beautiful country and I will miss it. Learning English in the UK was a big experience for me and I made a lot of new friends. Thank you all for such a great time here at EC Brighton!"
Andrea Carrari from Italy wanted to learn English in the UK and studied with us for eight weeks. He stayed with one of our wonderful host families and had this to say about his EC experience:
"I'm very happy about this experience. I wanted to study here to improve my English and I think that EC School is a very good place to do this.
I have learnt a lot of words and language rules and my listening has improved. My favourite EC activity is the conversation clinic because you can make a lot of friends and we can practice speaking English to each other.
Now I have many new friends who come from different countries such as Korea, Chile, France and Spain!
Thanks for the good times here!"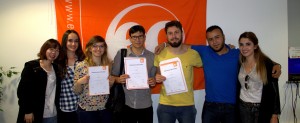 Comments
comments