Day before yesterday at approximately 3 pm in Brighton, if you were studying at EC English Language School in Brighton, you would have witnessed an uncommon weather phenomenon. As daylight decreased and everything around us turned to a sepia, moody orange colour, it didn't take long for people to take to the internet with pictures and suggestions of the end times.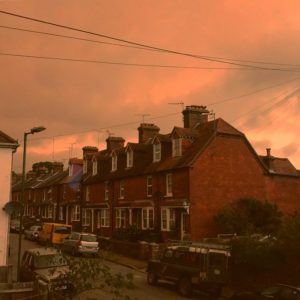 The daylight had been so diminished that street lamps were turning on, creating a very moody atmosphere. But the cause of this phenomenon; 'storm Ophelia', had very little impact on us in the South East England. Ireland was the part of the UK taking the brunt of the storm, where sadly 3 peoples lives were claimed by its 119 mile per hour winds. Around 330,000 homes and businesses are out of power, as Ireland faced its worst storm in recorded history. The storm is moving up to Scotland and conditions in the South East will remain mild.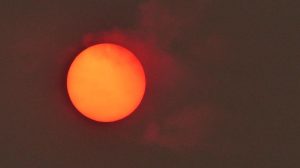 The reason for the red gloomy darkness is the sand being picked up from Africa and sent across the sky in front of the South East. This is known as a 'hurricane sun'. One of the most curious aspects of this event is it's relation to the UKs last hurricane. Exactly 30 years and two days ago weather presenter for BBC Michael Fish declared that England doesn't get hurricanes. Then, exactly 30 years before storm Ophelia yesterday, England and France faced the Great Storm of 1987. 22 people were killed and over 1 billion pounds of damage caused, exactly 30 years before storm Ophelia blocks out the sun.
Comments
comments