With these moody temperatures and lack of daylight, the right kind of food can make all the difference to your mood. Typically we eat stodgy, calorific food that keeps you going through the darker season. Here are some quintessentially British dishes with links to recipes. If you're studying IELTS Brighton English Courses, why not acquaint yourself with traditional British dishes and give these a try. Click the images for recipes;
Toad in the Hole
Essentially consisting of pork sausages cooked in Yorkshire pudding batter. Now despite the name, Yorkshire pudding batter is completely savory. It's a typical part of a Sunday Roast and is made from eggs, milk and flour like any batter. The dish stems from the 18th century. Hannah Classes's recipe book from 1747 called; 'the art of cookery', provides a recipe for 'pigeon in the hole'. It's a rich and basic dish that could equally be described as sausage pancakes.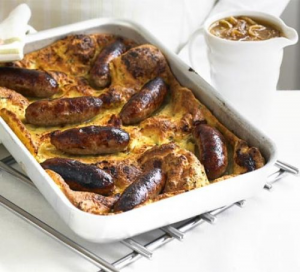 Welsh Rarebit
Welsh rarebit (spelling based on folk etymology) or Welsh rabbit (original spelling) is a dish made with a savoury sauce of melted cheese and various other ingredients and served hot, after being poured over slices (or other pieces) of toasted bread, or the hot cheese sauce may be served in a chafing dish like a fondue, accompanied by sliced, toasted bread. The names of the dish originate from 18th-century Britain. Despite the name, the dish contains no rabbit meat.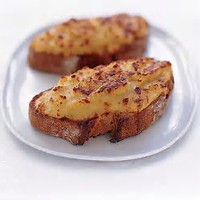 Sheperds Pie
Sheperds Pie made with minced Lamb or Mutton, or Cottage Pie made with minced beef, is a mashed potato topped pie. The dish will usually include onions and a variety of vegetables cooked with the meat, while the potato topping will sometimes be covered in grated cheese. The name Cottage Pie was coined in 1791 when potatoes were first introduced to England as an edible crop for the poor. The term Sheperds pie didn't arrive till over 50 years later.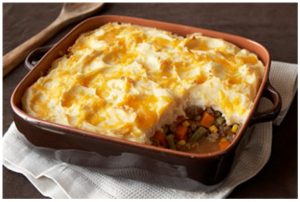 Tikka Masala
Not necessarily a British dish. Tikka Masala took off in Glasgow and in 2001 Robin Cook the foreign secretary said it was a 'true British national dish'. Rahul Verma, a food critic who writes for The Hindu, said he first tasted the dish in 1971 and that its origins were in the Punjab. He said "Its basically a Punjabi dish not more than 40-50 years old and must be an accidental discovery which has had periodical improvisations". Another explanation is that it originated in an Indian restaurant in Glasgow, Scotland, but probably from the British Bangladeshi community which ran most Indian restaurants in the United Kingdom. There are roughly 48 interpretations of the recipe, but the most common ingredients are tomato, coconut cream, coriander and spices.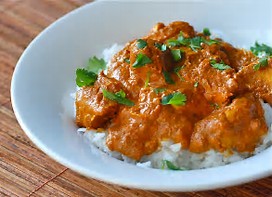 Fish and Chips
Here's one that you don't even need to cook. Fish and chips is a seaside staple of British dishes. Chances are no matter where you are in Brighton, you're a stones throw from a fish and chip shop. The best ones tend to be on the coast. Fish is battered and both are deep fried.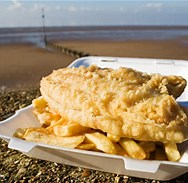 Comments
comments