Valentine's Day, also called Saint Valentine's Day or the Feast of Saint Valentine, is an annual holiday celebrated on February 14. Originating as a Western Christian feast day honoring one or more early saints named Valentinus, Valentine's Day is now recognized as a significant cultural, religious, and commercial celebration of romance in many regions around the world, although it is not a public holiday in any country.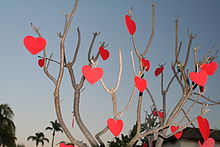 The popular belief about St Valentine is that he was a priest from Rome in the third century AD. Emperor Claudius II had banned marriage because he thought married men were bad soldiers. Valentine felt this was unfair, so he broke the rules and arranged marriages in secret. When Claudius found out, Valentine was thrown in jail and sentenced to death. There, he fell in love with the jailer's daughter and when he was taken to be killed on 14 February he sent her a love letter signed "from your Valentine".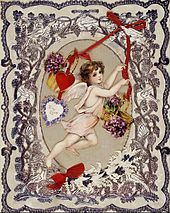 Valentine's Day customs developed in early modern England and spread throughout the English-speaking world in the 19th century. In the later 20th and early 21st centuries, these customs spread to other countries, but their effect has been more limited than those of Hallowe'en, or than aspects of Christmas, (such as Santa Claus). Due to a concentrated marketing effort, Valentine's Day is celebrated in some East Asian countries with Chinese and South Koreans spending the most money on Valentine's gifts.
If you're new to English, try our Basic English Courses in Brighton
Comments
comments