Bowling is a sport or leisure activity in which a player rolls or throws a bowling ball towards a target. It is one of the major forms of throwing sports. In pin bowling variations, the target is usually to knock over pins at the end of a lane. A strike is when all the pins are knocked down on the first roll, whereas a spare is when all the pins are knocked over on the second shot. The maximum score is 300, which is achieved by getting 12 strikes in a row. Three consecutive strikes is a known as a "turkey". Further strings of strikes are referred to as the number with the word "bagger", such as "four-bagger" for four consecutive strikes.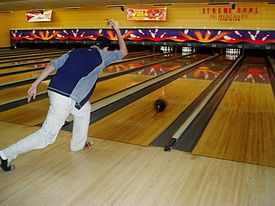 The term "hambone" has also been used to describe four consecutive strikes. In target variations, the aim is usually to get the ball as close to a mark as possible. The pin version of bowling is often played on a flat wooden or other synthetic surface (which can be oiled in different patterns for different techniques), while in target bowling, the surface may be grass, gravel or a synthetic surface.
The most common types of pin bowling include ten-pin, nine-pin, candlepin, duckpin and five-pin bowling, while in target bowling, bowls, skittles, kegel, bocce, carpet bowls, pétanque, and boules, both indoor and outdoor varieties are popular. Today the sport of bowling is played by 100 million people in more than 90 countries worldwide (including 70 million in the United States), and continues to grow through entertainment media such as video games for home consoles and handheld devices.
Cambridge English Courses at EC Brighton
Comments
comments