Coffee… It's a shrub of the genus Coffea, this shrub fruits a berry from which coffee is extracted. There are several species of coffea but the ones that usually end up in our mugs, are of the Robusta and Arabica variety. Coffee is one of the most consumed drinks in the world, with a 3rd of the global population being regular drinkers. Legend tells that coffee was first discovered by an Ethiopian Shepard, that noticed his goats becoming nervous after chewing the red bean. This inspired the Shepard to make a paste of the berries and mix with bread, for the energizing properties it provided on long walks.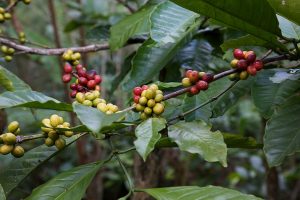 If you're Learning English as a second language in Brighton, you'll notice that Brighton loves coffee. In fact, Brighton was voted the most hipster place in the UK, due to having the most coffee shops per residents. There are an abundance of coffee houses out there, so let me help you narrow down the choice. When you're getting a coffee, there's more than one thing to consider. It's not just the quality of the drink in the cup, but the environment in which it's brewed and (as with anywhere your money goes) the ethics of those that are brewing it.
Small Batch Coffee
Provide high quality beans to many of the Brighton coffee shops. As well as providing a tasty, ethically sourced bean varieties, small batch supports thousands of young people by providing free barista training courses through local community groups.
Brewed
A phenomenal spot that serves some of the wildest coffee varieties many people will ever come across. This sister project is a spin off from the owners very successful and over saturated coffee house in Brighton centre. They're little kitchen offers up tasty pancakes and other treats in the week and on Saturdays hosts a talented mixologist.
Fanny's of Hanover
Soon to undergo a change of name, this enterprise provides great coffee (particularly their cold brewed coffees), smoothies, juices, fresh food and bakery items. They are a supportive member of the Hanover Community. They have a very cosy basement and seek to use their facilities to support other community groups.
Flour Pot
Dotted all over Brighton, it's hard to be too far from a Flour Pot. You can always trust them to offer you a clean, modest looking café with consistently good coffee made by well trained baristas and fresh delicious foods.
Presuming Ed
At risk of being the trendiest place in Brighton, Presuming Ed has the most continuously buzzing atmosphere out of any of the coffee shops and probably most of the venues in Brighton. It's a serious hotspot for the countless budding artists and entrepreneurs of Brighton to relax and to meet. As well as having guaranteed good coffee, food and cakes, with beers available, Presuming Ed is wildly designed from head to toe. With comic books all over the toilet walls, tables and chairs made of stacked books, laptop benches, game controllers hanging from the ceiling, it's a feast for the eyes. Not to mention the secret spots within, such as their own cinema, a very secluded roof terrace and library-style meeting room. Presuming Ed really puts the house into coffee house and never fails on the coffee.
Comments
comments