EC Brighton Enjoys Another Scorching Heatwave, but who doesn't right? This year we had the hottest day of June ever recorded. But that's nothing compared to our neighbours in Europe, some had the hottest day ever recorded full stop. So things are getting hotter. It's funny how many people in England struggle to see hot weather, as anything but I a divine blessing from the literal heavens above. Oh alas, the feeble optimism. Of course hot weather is a nice change to cold, it certainly works for spending a leisurely weekend outdoors. But obviously things can be, too hot. Also, the English agriculture depends on a certain amount of rain. No rain, no crops, big economy crash.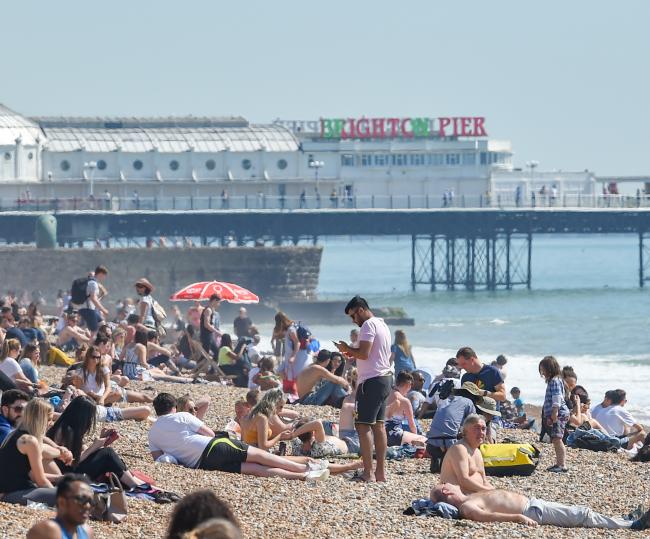 At least ice cream vending businesses and pubs with gardens will be enjoy a boost to their sales. There has been a health warning, which further demonstrates a disconnect between the direct experience of heat and its conception in the minds of English people. The warning reminds us to drink plenty of water and to use high factor sun screen. This of course is so we don't dehydrate or suffer skin burns of lasting damage. Seems like an obvious thing to avoid, if your focused on the direct experience of what your doing. The heatwave isn't fun for everyone of course. It's a terrible time to be a resident of an air-condition-less hospital, old peoples home or nursery. Where the most vulnerable of people, the young, the old and the sick suffer a serious challenge of surviving the heat.
It's great being able to just strip down and lay on some stones and bake out next to the wide ocean whenever one feels like it. More so to know that a world of seaside treats surround you, despite the dribbling masses that engulf the most central part of the cities beach. Best advised to find some quiet spot up or down the road for a more relaxing experience.
Click here to learn more about our brighton english courses at EC Brighton.
Comments
comments