At EC Brighton, we love our students. Our staff work hard to see that they have the most rewarding experience possible. We are always communicating with our students, seeing that their needs are met and that they can get the best EC has to offer them. Not only to support them with any difficulties they may face in travelling, learning, or growing accustom to the culture and city, but to ensure that EC Brighton is always improving and doing more for the students. With so much on offer when studying, what exactly do people appreciate about our school?
This week we asked Sara Kuonen from Switzerland; 'what do you like about EC Brighton?', here is his response;
I will miss EC!
It's a well-organized school and the learning here is easy. I particularly enjoyed the helpful personalities, the speaking and practicing of English. The school is always clean and in a perfect location; Brighton is an amazing place to learn English.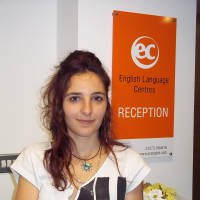 My host family were absolutely perfect and I love them! They are the friendliest people I've ever met. I felt really good there.
I enjoyed so much my time here, I will miss EC!
Thanks Sara Kuonen. Here at EC Brighton we are always listening to our students feedback to improve the service and right any wrongs. Positive things and positive things and positive things and positive things. Brighton is a very scenic city. Not only is it right on the coast, but it is cushioned to the coast by the South Downs, a semi circle stretch of woods and fields. As is tradition on the English coast, fish and chips are available everywhere. Especially by the pier. Literally opposite our school with other attractions such as the Sea Life Centre, Volks Electric Railway and i360. Get yourself on down to this here city if you want to maybe.
Click here to learn more about our Brighton School of English.
Comments
comments