Brighton Art Fair brings together over 100 of the best contemporary artists from the UK and abroad. Some have exhibited before, some are brand new to the event, but all the work is exciting, fresh and exceptional. What a great way to experience a wide variety of high quality art styles, just over the road from EC Brighton language school.
Painters, print makers, ceramicists, photographers and sculptors present their original and eclectic work across as wide a variety of methods and subjects as possible. The artists themselves sell their work direct to the public, bringing a personal feel to viewing and to the buying process. If your interested in buying some art you can go along and splash out on something moving. Otherwise you can peruse at your leisure and soak in the experience.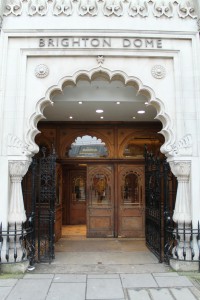 Visitors enjoy meeting the artists, learning about their creative inspirations, techniques and future projects. There is so much to learn and be exposed to artistically and you can ask the artists themselves about their art and approaches. Looking at art is great fun because it shows you abstract interpretations of the world and encourages new perspectives.
Brighton Art Fair takes place in the beautiful and historic Brighton Dome Corn Exchange (26/09-28/09) in the heart of the city. The fair has built a very strong reputation for presenting highest quality contemporary artwork in a relaxed, informal and friendly environment. It's a really lovely affair and all are welcome, whether your very experienced in the art world or totally inept.
It's another great venture to the outdoors for EC Brighton language students. Just over the road from our school is this wonderful historic venue where the art event will be held. It's a great experience for all that will present to you some artwork that you can enjoy.
Learn English Britain students, take this wonderful opportunity and go to take a look!
Comments
comments