At EC Brighton, we love our students. Our staff work hard to see that they have the most rewarding experience possible. We are always communicating with our students, seeing that their needs are met and that they can get the best EC has to offer them. Not only to support them with any difficulties they may face in travelling, learning, or growing accustom to the culture and city, but to ensure that EC Brighton is always improving and doing more for the students. With so much on offer when studying ESL Classes in Brighton, what exactly do people appreciate about our school?
This week we asked Sabrina Iten from Switzerland; 'what do you like about EC Brighton?', here is her response;
"The people are very helpful and kind.
And even though my host family is 30 minutes away from school, I still like the way because the bus goes along the sea.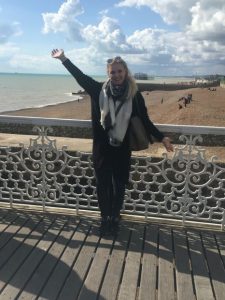 Yesterday I was on the Brighton pier for the first time and I really liked it because you can play different games or of course you can eat some fish and chips.
The school is near the sea and you are very fast at morrisons to get some lunch or even better it is near a Starbucks and different cool pubs."
Everyone at brighton english courses is happy to help and be a friend to our students. Brighton is a very scenic city. Not only is it right on the coast, but it is cushioned to the coast by the South Downs, a semi circle stretch of woods and fields. As is tradition on the English coast, fish and chips are available everywhere. Especially by the pier. Literally opposite our school with other attractions such as the Sea Life Centre, Volks Electric Railway and i360. What a great place to study, learn and meet new people.
Comments
comments