Prepare for some spectacular pyrotechnic displays in November, as we enter the season for fireworks and bonfires. October and November we see a great number of firework and bonfire displays across the UK and Brighton is no exception.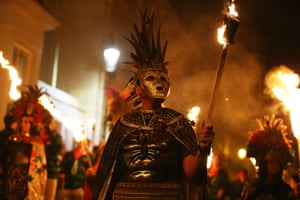 Lewes is where you will find one of the biggest bonfires in the country, accompanied by a fantastic display of fireworks that will dazzle and impress you. Delivered by no less than 6 Lewes bonfire societies from across Sussex, there will be an astounding 30 processions celebrating the time of year. It is a fantastic event and not one to miss if you avoid it. Do remember to wrap up warm and wear waterproofs, no matter the forecast, after all grounds can be wet and slippery when trodden in by the crowds. Remember to bring some cash for the Lewes Bonfire charity collection boxes that go around.
The event is held in Lewes town centre and is a ticketed event. If you do not have a ticket, you will not be allowed entry. Tickets are available on reception, so head on down and talk to our lovely reception team. This event is not suitable for very young children and infants due to the quantities of smoke. People with respiratory problems should also take caution and consider not attending the event. There will be limited toilet facilities, all pubs and venues will be ticketed and expect them to also be completely full all night. There will be road closures all evening and night around the Sussex routes into Lewes, starting from around 2pm. Main procession routes will also be inaccessible and not open for parking.
Lewes Bonfire night is a hugely popular and widely attended spectacle. If you decide to enjoy this event which is very recommended, remember to take care and behave responsibly.
Learn English in the united Kingdom
Comments
comments