EC Brighton is a place where students get the best treatment. Because EC staff are always trying to improve the experience of learning English at our school, both within the classroom and through our activities. This is why student feedback is very important to us. It allows us to improve the service for everyone, whether this means helping students get the right accomodation, find the right classes for them, meet new friends or get to know the local area. We are always acting fast to solve any challenges students may face with being a student, this could be settling into accomodation, getting the right class level or simply growing accustom to the country. We're always asking our students; what do you like about EC Brighton?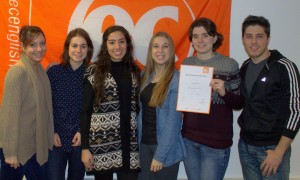 Giulia Sartorello from Italy studied at EC Brighton for six weeks, she chose one of our Homestay Brighton families and this is what she wanted to share with us:
I had great time at EC Brighton. The teachers are well prepared and the lesson are very interesting and engaging.
My host family is lovely and they have helped me to improve speaking and vocacublary skills.
I will recommend EC to all my friends!
Thank you
Giulia
No matter your age, cultural background or ability in English, EC is a place that you can settle into for a great learning experience. Making the experience for learners as positive as possible, is why so many students come to learn with us and so many come more than once. There are not only great lessons but many great opportunities to learn English outside of lessons. Whether you prefer to live with a family in homestay, or live in residencies with other students, we can find the right accomodation for your stay with us to make you feel at home while you learn.
Courses of English in Brighton
Comments
comments