Churchill Square is one of the best spots to hang out in Brighton.
With heating, food and more shops than you can think of, Churchill Square is a super good place to hang out in Brighton. You don't need to be an avid shopper or foodie to enjoy the variety of things on offer. In the warmer weather, one might just enjoy sitting around the plateau, enjoying some of the pop up food stores offerings and the local buskers music. There are countless places to buy things, spend money and be sold stuff.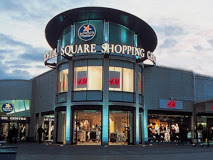 Churchill square has a collection of shops like no other centre. You can find everything you would enjoy spending money on there, from shoes, clothes, glasses and even teddy bears. All those things you love to spend spend spend away on, under one roof. When your feet are sore and you just can't carry those bags of goodies, head on over to the food court. In the food court, you'll find a collection of food places that have their delicious meals available for you. There are a selection of different restaurants around a comfortable seating area, where you can buy food, sit and then eat it too, how charming.
Churchill Square is a big area not just limited to the insides of the shopping centre. Across the road and lining the outside of the building are… can you guess what? That's right! Even more shops and food places to spend money money money on. Just when you thought you couldn't find another place looking to profit off of you, there's a whole load more clothing, food and beverages that you absolutely must try. Don't stay in Brighton without getting yourself around this clinically clean, well lit, commercial environment. It really is something that must be seen to be believed.
Comments
comments