Take an EC student at Brighton and what's the one thing you can guarantee? That's right, a cohort of hardworking and diligent individuals are moving mountains behind the scenes, to ensure that student has the best ever learning experience anyone can imagine. There's no holding back on the joy fueled, happiness oriented extravaganza that is learning at EC Brighton. Let's just take the activities for a start. We've got them within and without the school building, hosted by ourselves and very trusted partner organisations. These activities aren't just entertaining, they are straight up life changing. I'm talking once in a life time, memories till your ancient kind of experiences. Now lets consider the small chance that any minute part of your learning journey is not absolutely perfect. No bother. You can come straight to our reception desk, accommodation or academic office and the staff will be ready to iron out those imperfections that you just can't get over. What about the teachers? Our teachers aren't just instructing on the English language, they're sharing their insight into Brighton as a long term residents and workers in the area.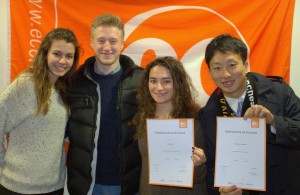 "It was an amazing experience in my life. I learnt many new things. I came to improve my speaking and managed it. I met a lot of lovely friends and my host mother was a sweetheart. I love her, thanks for everything!"
Even if you don't want to study English, learning English with us at EC Brighton will hands down be the greatest decision you ever make in your life. We can help you find the right place to live, whether you're interested in being with families who have spoken English, only their entire lives! Or if you want to be surrounded by all the other passionate learners, you can take a comfy space in one of our local and delightful residencies. Between sleeping and learning, you can pack out every moment with super fun activities that are just the bomb. Have a real great time nipping around the country or doing those hilarious group things that are just so memorable and nice.
Comments
comments