Good morning Guys and Gals!
How are we all?
It's Thursday here in England so soon enough it will be the weekend!
We have had a very busy few days and so I didn't want to write without some cracking photos!
This week we have welcomed Julia to our teaching team – we hope she enjoys every second of this summer as much as we are!
So we said a warm hello to Julia, but a tearful goodbye to Anne-Louise who works with Ana and myself at reception on accommodation.. She has left us!!
But have no fear, I'm only kidding a little bit, Anne-Louise will be back in six weeks! So it's not really a goodbye, just a 'see you soon!' phew! I nearly had you there didn't I!
This Tuesday we had the amazing EC Boat Party!! It was so much fun and everyone had an amazing time. There were 100 of us on the boat, so it was very full indeed!
Take a look at some of the photos I've uploaded, courtesy of Ana Esteban with her amazing skills of photography. She has really captured the night with her shots – Ana is very talented as I'm sure you will agree once you've seen the photos 🙂 There are many more photos left, so maybe I will upload them too if I have time.
As I said before it's Thursday today, which, if you really know your stuff, you would be able to tell me that it was Wednesday yesterday. Top marks if you rolled your eyes at my sarcasm just now..
Well, as you are obviously an avid reader of these blogs, you will also know that Wednesday is our super special, magical, amazing doughnut day! Hurrah!
But alas, yesterday this tradition did not come up trumps because it was simply so so busy… It was okay though, as at the end of the student's lessons we had a DVD Night! (Baring in mind this is at about 14:30 which as plenty of people have pointed out is not night time. I know I know I know.. but DVD Afternoon just doesn't have the same ring to it!!)
Anyway, back to the point… We had our DVD N-i-g-h-t which consisted of freshly made Scones from a local baker from Park Street with a LOT of jam and cream on top. They were delicious!! So it was a good replacement for the doughnuts for the day 🙂
Then, when everyone had mopped their chops we went up to the top floor and watched an English DVD called 'Monsters' in what is now our Cinema room! It was a lot of fun indeed and much more sociable than going to the cinema! Maybe we will do it again next week..
As it is soon to be the weekend, we will yet again welcome even more students! It's so nice that to see all the students we have at the moment – when you see them smiling and they say hello every morning, it also makes it much easier for me to remember all of their names. Especially when everyone spends time together with the activities we do like the Boat Party and the cinema with scones, it's nice to become more than just students and staff – we become friends 🙂
Awww…
And on that note, I must get on with preparing to enroll the students on Monday morning… It's exciting!!
Enjoy the photos, if you want more let me know!
Have a good day,
Fay xo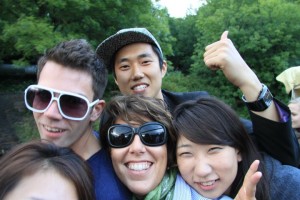 Comments
comments