Recipe
Nettle Soup
Recipe used from 'Wild Food' by Roger Phillips
http://www.nettlesoup.info/nettlesoup.htm
Collected nettle soup ingredients
To make delicious nettle soup, all you need is :
a bagful of nettle leaves, about the size of a football, for four people
1 large onion and garlic cloves to taste
2 or 3 potatoes
olive oil, salt and pepper
some stock or a stock cube (chicken or vegetable)
cream to taste
Preparing nettles
Firstly prepare the nettles. Wash and drain them. Trim the stems out of the nettles you have picked, leaving just the fresh, young leaves. Go through them carefully separating stalk from fresh leaf and discarding any discoloured or dubious looking leaf. You can do this easily by picking up the nettle tops by the main stalk, compressing the leaf stalks together with your fingers and cutting across the tops with scissors. If you are worried about being stung – wear some gloves.
Making Nettle Soup
Then chop up the potatoes, onion and garlic and sauté them in a 2 litre saucepan with a splash of olive oil and a bit of butter to taste. When the onion starts to soften and the potato is forming a slight crust, drop in the nettles and give them a quick whisk around with a spatula. Then add a litre of boiled water and your stock. Stir it all up and let it bubble for about 12 minutes, or until the potato is soft.
Put it through a liquidiser once it has cooled, then return to the pan to warm it when you are ready to serve. To serve, pour the soup into a bowl and add some cream. Swirl the cream around with the back of a spoon to make an interesting shape. Add salt and pepper to taste. Roger Phillips suggests serving this soup with butter-made croutons although I prefer it without. It is also nice with a drop of wine.
Freezing Nettle Soup
Nettles are at their best in the spring and become inedible after June as the leaves become brittle, so you may want to store some. Nettle soup freezes very well, but leave out the cream as this is best added as a fresh ingredient. Used fruit-juice cartons, with screw caps are an ideal way to freeze nettle, or other soups, provided you can get the soup into the top. To do this I usually cut the top off a plastic drinks bottle and invert it as a funnel so that the still slightly warm nettle soup pour into the carton more easily. Leave a space in the top as the nettle soup will expand slightly as it freezes. Store the carton upright if there is room in case your deep freeze accidentally defrosts.
ENJOY!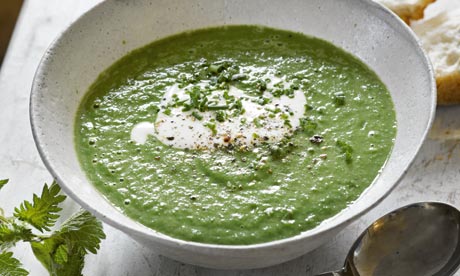 Stella xx
Comments
comments