INTERVIEW TIME
with one of our student Humberto De Lemos
What's your name? Humberto Lemos
Where are you from? Rio de Janeiro, Brazil
How old are you? 50
What is your favourite colour? Blue
What are your favourite hobbies? Playing football and Caixa drums.
My priorities are to live until 100 years of age, to open a bed & breakfast close to the beach.
When I wake up, I take a shower, have a small breakfast (cornflakes with milk), exercise myself 7 minutes ish and have a shave.
I like life, people and nature.
I hate people that lie and boring places
I'm proud of the birth of my first son, my mother, working for the brazilian government.
The first thing I do when I get back home is to go on the internet.
I'm afraid of death.
I dream about my friends at EC and completing the English studies.
My future projects are to open a bed & breakfast with a girlfriend.
My song of the day is Farticio de Oracao.
My favourite book is…Memorias De Um Gargento De Milichas by Manuel Antonio de Almeida
My favourite film is The King's speech directed by Tom Hooper.
The 3 things that I can't live without: work, my sons and my friends.
Picture yourself in 10 years! I want to be alive, to have a work and be with my friends.
My favourite food is cod fish.
I'd like to visit France!
My favourite smell is the smell of roses.
Last concert that I saw was at Colston Hall, The Nightjars were playing.
What is the best thing in EC Bristol? Bristol, the place.
What is the worst thing in EC Bristol? the food!
My best memory from my childhood: games with my friends, mables and kites.
My lucky charm is…I don't have any.
Do you collect anything? If yes, what? No, I don't collect anything at the moment but I used to collect matchboxes.
My favourite animal is a horse.
What are you thinking right now? I am thinking about being with my friends from EC.
What are you wearing? a brazilian t-shirt and jeans.
My favourite sport is football.
My favourite country is Brazil!
Sorry we couldn't finish the interview because Humberto had to leave to see a match in Manchester.
It annoys me ?
What makes me happy is ?
THANKS HUMBERTO!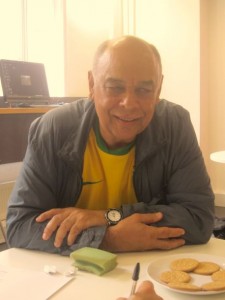 Stella xx
Comments
comments