Hi everyone,
What's up? Everyone is so excited in the school because in a few hours we will all be enjoying the Christmas Holidays…What are your plans? Please share them on our EC Bristol Facebook page.
At school today some teachers and students sang some Christmas carols. Check the videos out on our EC Bristol Facebook page.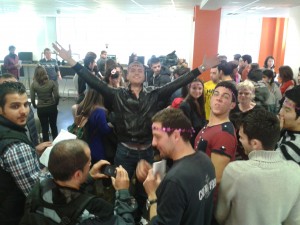 The January Calendar 2013 is ready! Yippie! If you are studying English at EC Bristol you can see it close to Reception. Would you like to have an overview of the coming activities? Just look below at our Activities Programme: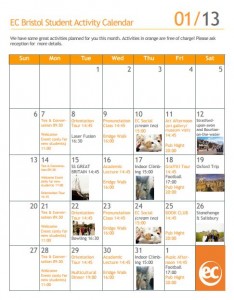 Let's spill the beans! In January we are organising a Book Club! Each of you will have two weeks to read a book of your choice and share your opinions plus explain the plot to the other students. It will be a great opportunity for you to improve your English and your reading skills!
Have a FANTASTIC CHRISTMAS and a very HAPPY NEW YEAR!!! Enjoy them properly!!! Eat, drink and have fun !!! 😀
We all hope that your wishes come true and that your stay at EC Bristol has been or continues to be rewarding.
Be ready for a brand new start in January at EC Bristol with plenty of things happening. If you want to improve your English during the holidays and you don't know how, go to the BBC Learning page, here is the link: http://www.bbc.co.uk/worldservice/learningenglish/ and exercise your knowledge. It's a really great website and you will make great progress.
Thanks from EC BRISTOL TEAM
Comments
comments