Hi everyone,
We hope you had a good holiday. What did you do? And what did you get for Christmas?
HAPPY NEW YEAR 2013
New start, new friends, new adventures, new resolutions, new activities and a focus on English.
At EC Bristol we have loads of new students who are starting their new experience among us. We will make their stay as great, memorable and rewarding as we can.
You can now find Christmas carols videos with our amazing EC students on our EC Bristol Facebook Page.
Yesterday was the date of birth of Elvis Presley. And I'd like to mention one of his quotes: 'Rock and roll music, if you like it, if you feel it, you can't help but move to it. That's what happens to me. I can't help it.' 
Now let's talk about the weekly activities calendar. What's on at EC Bristol this week?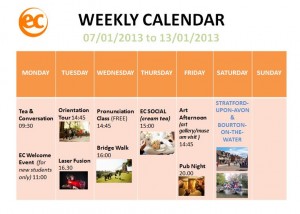 On Thursday we are organising an EC Social special English cream tea afternoon. Have you ever tried cream tea? No? What a shame! You should join our EC Social on which you will be able to talk with our Activity Leader and meet new people from the school. It's a great opportunity for you to chat in English…ONLY! and have fun. What is a cream tea? It is also known as a Devonshire tea, Devon cream tea or Cornish cream tea. It is tea taken with a combination of scones, clotted cream and jam. Cream teas are offered for sale in tea rooms throughout the United Kingdom. So who's up for it?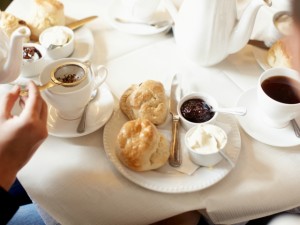 On Friday we are organising an Art Afternoon (art gallery/museum visit). The Museum chosen for this Friday is the BRISTOL MUSEUM & ART GALLERY. The EC Team really advise you join this activity. In particular it will be great to see the Wildlife Photographer of the Year Exhibition that is on at the moment. AMAZING and very TOUCHING photographs!
Also, on Saturday we are organising a trip to Stratford-Upon-Avon (Shakespeare's birthplace) & Bourton-on-the-Water.
Our last excursion to Stratford & Bourton was a great success and really popular. The students were really surprised by the charming city of Bourton-on-the-Water. Have a look at our pictures on our Facebook page.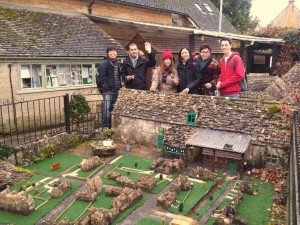 That's all for this week 😀
Have you ever dreamt of coming to the UK and improve your English? Have you thought about studying abroad courses in English…why not come to Bristol?! We can assure you that you will have a fantastic time among us. We are always happy to see you.
Thanks from the EC Bristol Team
Comments
comments