Hi everyone,
Did you have a great week? Tell us more about your favourite places in Bristol…where do you often go?
The bowling activity has been a HUGE success this week. A large number of EC students participated at that session and it was great fun. Takahiro, one of the EC students, had the victory with a score of around 180 points. What's more, on Friday we organised our first Book Club that went very well.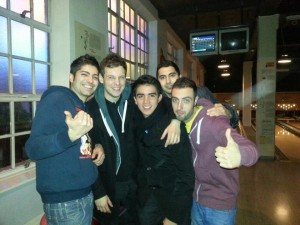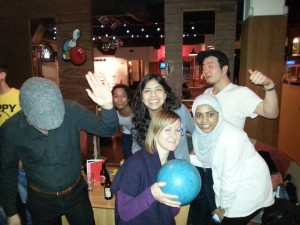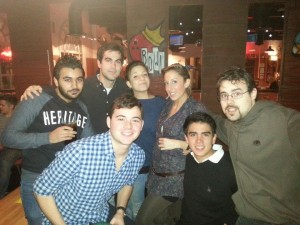 Did you know that Bristol is known for its art? In particular Bristol is world renowed for its graffiti art. For your information:
The Bristol underground scene is the culture surrounding trip hop, drum and bass, and graffiti art that has existed in Bristol from the early 1990s to the present. The 'bohemian, multi-ethnic' city of Bristol in the UK has spawned various musicians and artists, and is typified by its urban culture. The city is most associated with a group of artists such as Massive Attack who emerged during the 1990s, called the "Bristol Sound".
So as we just said the Bristol scene is characterised by a strong relationship between music and art, especially graffiti art. Many graffiti artists work in Bristol; one of the most notable is Banksy, who has also designed album covers for bands such as Blur. Banksy is a world renowned artist who uses his original street art form to promote alternative aspects of politics from those promoted by the mainstream media. Some believe that his graffiti helps to provide a voice for those living in urban environments that could not otherwise express themselves, and that his work is also something which improves the aesthetic quality of urban surroundings; others disagree, asserting that his work is simple vandalism. Banksy has produced work all over the world, including in Barcelona, New York, Australia, London and the West Bank.
Bristol has long been a multicultural city. In the 1950s and 1960s there were waves of immigration that made Bristol one of the most racially diverse cities in the UK. This mix included greater access to new strands of music such as reggae and punk.
However, the Bristol underground scene was characterised as well by a sparseness and darkness. Bands like Portishead and Massive Attack are known for using sparse instrumentation. Banksy also tends to use very few colours, concentrating on black and white with sharp outlines, covering controversial topics such as war. Separately to this, some writers have talked of an undercurrent of darkness within the city due to its history.
Here are a few interesting places to visit where you can see art exhibitions. Please check their websites out: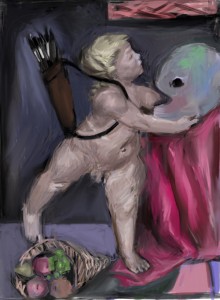 Picture taken from the GRANT BRADLEY GALLERY website
Are you living abroad? Do you feel ready to live your home and study English? Come and join our English courses at EC Bristol.
Here is an English expression that our EC Bristol Team would like to teach you:
You Scratch My Back And I'll Scratch Yours is a saying with its origins in the English Navy. These days we use it to suggest two people will do each other a favour, or look out for each other so that both parties benefit from one another's actions. During the 17th and 18th centuries the English Navy was traditionally brutal and punishments for disobedience or absenteeism were unimaginably harsh. It was common for a crewmember to be tied to a mast after being sentenced to a dozen lashes, with a 'cat' o' nine tails', for minor offences such as being drunk. A 'cat' was nine lenghts of thin knotted ship rope bound at one end into a handle. These punishments were usually carried out in full view of the crew, by one of the victim's crewmates. But it was also likely that the crewmate would himself be a victim of the cat o' nine tails at some stage on a voyage, so would be lenient with his victim by applying only light stokes and merely 'scratching' his back. He himself would then receive equally lenient treatment by another shipmate if and when he was on the receiving end.
Have a lovely night!
Thanks from the EC Bristol Team
Comments
comments