Hi everyone,
How are you feeling? How was your weekend? Did you do anything special and exciting?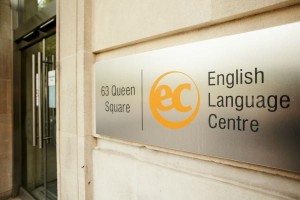 We are pleased to tell you that the 4th floor of our language school in Bristol is finished/completed/done! Classes are already being used. Please check out the pictures below: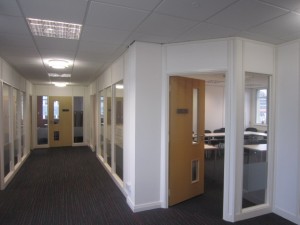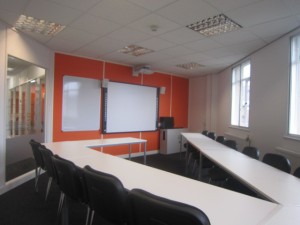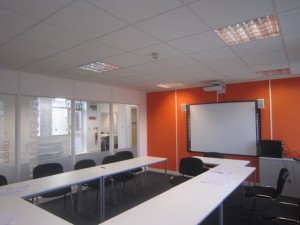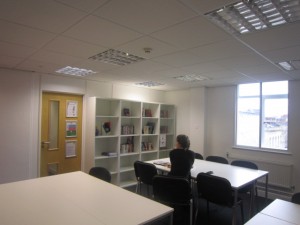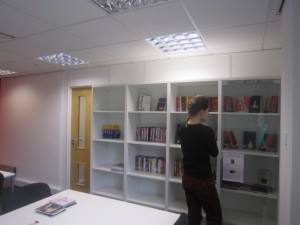 What's on at EC Bristol?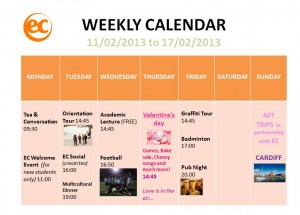 Today we organised an Academic Lecture, the topic of this one was Public Speaking & Communication Skills. We organised a Football session as well.
On Thursday it's Valentine's day! It is observed on February 14 each year and is celebrated in many countries around the world. Although it remains a working day in most of them.St. Valentine's Day began as a liturgical celebration of one or more early Christian saints named Valentinus. The most popular martyrology associated with Saint Valentine was that he was imprisoned for performing weddings for soldiers who were forbidden to marry and for ministering to Christians, who were persecuted under the Roman Empire; during his imprisonment, he is said to have healed the daughter of his jailer Asterius. Legend states that before his execution he wrote "from your Valentine" as a farewell to her. Today, Saint Valentine's Day is an official feast day. The day was first associated with romantic love in the circle of Geoffrey Chaucer in the High Middle Ages, when the tradition of courtly love flourished. Who is Geoffrey Chaucer? Known as the Father of English literature, he is widely considered the greatest English poet of the Middle Ages and was the first poet to have been buried in Poet's Corner of Westminster Abbey. By the 15th century, it had evolved into an occasion in which lovers expressed their love for each other by presenting flowers, offering confectionery and sending greeting cards (known as "valentines"). Valentine's Day symbols that are used today include the heart-shaped outline, doves, and the figure of the winged Cupid. Since the 19th century, handwritten valentines have given way to mass-produced greeting cards.
Did you know that nearly 150 million cards are exchanged each Valentine's Day? Or that more than 40,000 American are employed at chocolate companies?
At our language school in Bristol, we have put two boxes around the centre in which you can post a love letter for the person that you secretly adore. Shy to express your feelings face to face? Write your love letter and post it in the special Valentine's box!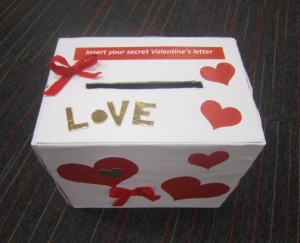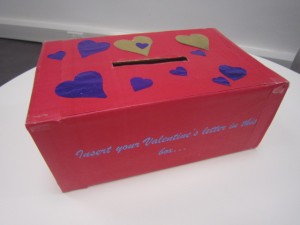 February is also the month of LOVE! So let's spread the love at EC!
Dreams are like angels
They keep bad at bay
Love is the light
Scaring darkness away
I'm so in love with you
Make love your goal
The power of love
A force from above
Cleaning my soul
Flame on burn desire
Love with tongues of fire
Purge the soul
Make love your goal
You don't have any dates for this Valentine's Day? Then spend it with the King! For a hunk of burning love, listen to Elvis Presley!
Maybe I didn't treat you
Quite as good as I should have
Maybe I didn't love you
Quite as often as I could have
Little things I should have said and done
I just never took the time
You were always on my mind
You were always on my mind
Tell me, tell me that your sweet love hasn't died
Give me, give me one more chance
To keep you satisfied, satisfied
For the Valentine's day we are organising a BAKE SALE. The money raised will go to the Breast Cancer Care charity.
Get involved in our Special Fundraising Day!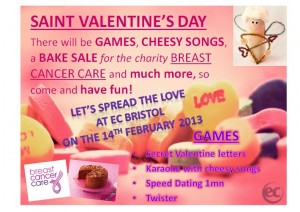 Today we'd like to teach you a new English expression…
A Cock And Bull story is likely to be untrue and without any real facts supporting it. Some suggest the phrase originates from old fables in which animals speak to each other, but there is a much more reliable source. Stony Stratford is a Buckinghamshire town located almost directly halfway between London and Birmingham and Oxford and Cambridge respectively. During the great coaching era of the late 18th and early 19th centuries, the town was an important and thriving stop-over point for travellers, tradesmen and mail coaches. The two main coaching inns were called The Cock and The Bull and both became known throughout the country as the centre of all news ravelling either on foot or by horse. The competing inns established a rivalry as to which could produce the most exciting and
scurrilous travellers' tales to be passed on to the major cities and as a result many unbelievable stories were dismissed as 'Cock and Bull' tales.
Thanks from the EC Bristol Team
Comments
comments