As many students at our language school in Bristol know, EC organises a regular indoor climbing activity at the Bristol Climbing Centre where students can enjoy a truely unique experience, have some fun and also learn some of the unusual vocabulary and expressions connected with climbing.
Can you guess what this climber is saying?
"I was super pumped at the crux of that chossy splitter, and when I took a whipper I almost cratered!"
(You can find the meanings to the words below)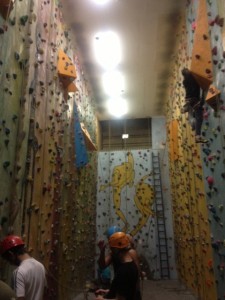 Inside the former Church of St.Werburghs
Built inside the fifteenth century Church of St.Werburghs, the Bristol Climbing Centre's facilities offer something for everyone from complete beginners to expert climbers. The church provides a unique atmosphere for the spectacular 12 metre high climbing walls, pillars, fins, overhangs and arches. Last week a group of students met up and braved the cold weather to visit the climbing centre. Climbing indoors is a great way to keep fit especially in the cold winter months.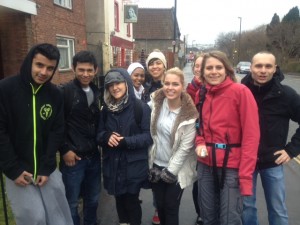 The climbers!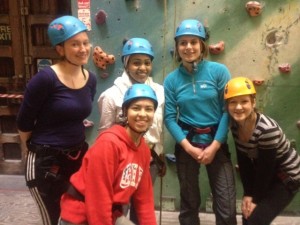 Gearing up & getting ready to climb
Climbing expressions and vocabulary
Crater- To hit the ground when falling on lead.
Crux- The hardest part of a route.
Choss/Chossy- Rock that is not solid and likely to fall off under pressure. Rock like this is chossy.
Pumped/Pumpy- The state of being exhausted from climbing to the point of fear of falling.
Splitter- Adjective or noun. A crack with mostly parallel sides with no other holds around.
Stem/Stemming- Using both arms and legs on two separate faces to hold the body up. Imagine placing your feet on either side of a narrow hallway…
Whipper- A fall, usually big, when climbing on lead.
Keep up to date with the EC Bristol activity schedule and sign up at reception for the next indoor climbing session!
Click here to check out our Facebook page!
Comments
comments