April, the month of Spring, the month of Giving Back and the month of Chocolate Eggs!
Our language centre in Bristol is happy to publish its new April Calendar, offering brand new activities such as a Botanic Garden Visit, Spa & Wellbeing session, Theatre evening (Two Gentlemen of Verona) and Coffee & Chat.
As well as our regular mix of sports such as: Badminton, Indoor Climbing, Football, Bowling, Salsa Dancing Night there are also cultural activities with the Art Afternoon visits to different Bristol Museums.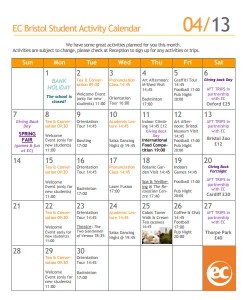 Our language school is situated at the heart of Bristol city centre. If you require more information about our courses or check some pictures of our school, please click on the following links: http://www.ecenglish.com/school-locations/learn-english-in-bristol and http://www.facebook.com/ec.bristol.
There are a number of events happening in the city this month:
Handmade Bicycle Show: 'Bespoked Bristol' at Brunel's Old Station
Over 70 leading independent makers from the UK, Italy, France, USA, Germany and Japan will be coming to Brunel's Old Station to showcase some of the most beautiful and desirable cycles on earth. Check out the following website to get some more details: http://www.bespokedbristol.co.uk/index.html
Exhibition: 'Chocolate!' at M Shed
This exhibition explores the history, mystery, magic and science of one of Bristol's (and the nation's) favourite products – chocolate! Discover the stories of those who made the confectionary in the city over the past 300 years, find out why it tastes so good and remember the brands from years gone by. Find out more on this website: http://mshed.org/whats-on/exhibitions/chocolate!/
Theatre: 'Agatha Christie's The Mousetrap' at The Bristol Hippodrome
The Mousetrap is famous around the world as being the longest running show of any kind in the history of British theatre – with almost 25,000 performances it's a play to be proud of.
The scene is set when a group of people gathered in a country house cut off by the snow discover, to their horror, that there is a murderer in their midst. Who can it be? One by one the suspicious characters reveal their sordid pasts until at the last, nerve-shredding moment the identity and the motive are finally revealed. Find out more on this website: http://www.atgtickets.com/shows/the-mousetrap/bristol-hippodrome/
Comments
comments