Bristol is famous for many things; balloons, bridges, blue glass and amazing languages schools but what new visitors to the city quickly find out is that a major benefit of studying in Bristol is the variety of great places to eat in the city.
Here are the top 10 favourite stops for food around the city as chosen by the admin staff at EC Bristol:
1. Full English Breakfast at Boca on the Gloucester road.
The full English breakfast is an institution that every visitor to the UK should try. Surprisingly though, one of the best in Bristol is served at BOCA, a Brazilian restaurant on the Gloucester road.
2. The Moroccan at St Nicholas Markets.
A firm favourite with EC staff who visit from other centres in the UK, this is a taste not to be missed. Try from a choice of Moorish chicken or Moroccan lamb and wash it down with traditional Moroccan mint tea.
3. Thali Café. Various locations around the city.
Jools, the Operations Manager at EC Bristol loves Spiced Masala Chai Tea and the one from the Thali café is excellent. If you have a sweet tooth the banana pancakes should satisfy your hunger.
4. The Burger Joint. Whiteladies Road, Clifton.
For serious burger lovers. Custom built burgers for the burger connoisseur. A big hit with all visitors and a popular place with students.
5. Pie Minister at St Nicholas Markets.
If you need any proof of how tasty traditional English food can be than look no further than Pie Minister. A modern take on English classic pie recipes, Pie Minister has become an institution. Great food for a cold day.
6. Brownies from Spicer & Cole, Queen Square.
Brownies are a big thing at EC Bristol and the ones from Spicer & Cole on Queen Square are among the best we have ever tasted. A firm favourite with staff and students alike, the only problem is that there is often not enough for everyone.
7. Earl Grey Tea and Scones at Brown's on the Clifton Triangle.
Cakes served with jam and cream are the quintessential English afternoon treat. A regular on the EC Bristol activity programme followed by a tour of nearby Cabbot Tower.
8. Falafel Salad from Eat a Pitta at St Nicholas Markets.
Another firm favourite of Jools the Operations Manager. He and Ingmar (the previous Centre Director) could more often than not be found heading to St Nicholas Market at lunchtime to grab a Falafel salad and a shot of chilli and lime juice to wash it down.
9. Cider at the White Lion Clifton.
The Bristol suspension bridge is one of the most iconic features of the city. Spanning the Avon gorge it is a major tourist attraction and marvel of engineering. On a sunny summer day, there is no better way to view the bridge than enjoying a glass of cider on the terrace of the White Lion pub, which overlooks the gorge.
10. Chips at Graze. Queen Square Bristol.
Unsurprisingly as it is directly underneath the school, Graze has become a regular haunt for EC Bristol students and staff. Perhaps the main reason for this is their chips; double friend and served with their homemade mayonnaise they are a firm favourite with the EC Bristol team.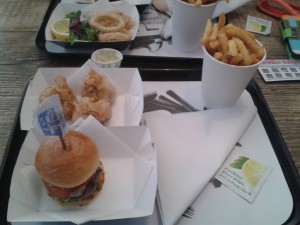 Comments
comments