Visitors to EC Bristol may be surprised to see large tents being erected in Queen Square.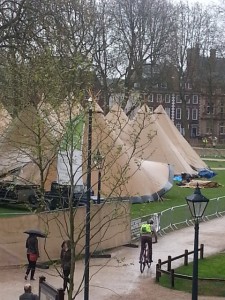 For the second year running Queen Square will change into a "tipi village" from May 13th to May 27th. The tents or "tipi" are part of a pop up restaurant event that celebrates the thriving food and drink industry in Bristol.
Inside the tents visitors will find a restaurant for 100 people, a 200 seat tapas cafe, bars, a live performance stage and an exhibition space.
The best chefs and independent restaurants in the city will take a turn to showcase their menus in the restaurant and a "modern British tapas" menu will be served in the cafe, using food from local suppliers.
As well as the food and drink, other attractions include:
Some of Bristol's best musicians and acts will be performing over the two week period.
A market of local suppliers produce.
Art exhibitions, theatre performances & talks and seminars.
For more information go to www.eatdrinkbristolfashion.co.uk
Comments
comments