As you might know already, EC Bristol has an amazing blogger-reporter called Zeliha. She is kurdish and a current student at EC Bristol studying a long-term English course. Since a few months now, we published her awesome blog posts on our EC Bristol blog page.
EC Bristol just got a new blogger, his name is Leonardo and he is italian. His posts are coming soon on our EC Bristol Page so don't miss them!
Please read the introduction of both Zeliha & Leonardo below: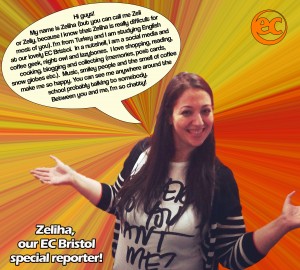 Hi guys! My name is Zeliha (but you can call me Zeli or Zelly, because I know that Zeliha is really difficult for most of you). I'm from Turkey and I am studying English at our lovely EC Bristol. In a nutshell I am a social media and coffee geek, night owl and lazybones. I love shopping, reading, cooking, blogging and collecting (memories, post cards, snow globes etc.). Music, smiley people and the smell of coffee make me so happy. You can see me anywhere around the school probably talking to somebody. Between you and me, I'm so chatty!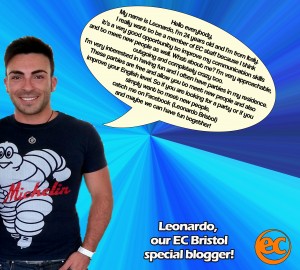 Hello everybody,
My name is Leonardo, I'm 24 years old and I'm from Italy. I really want to be a member of EC staff because I think it's a very good opportunity to improve my communication skills and to meet new people as well. What about me? I'm very approachable, outgoing and completely crazy too. I'm very interested in having fun and I often have parties. These parties are free and allow you to meet new people and also improve your English level. So if you are looking for a party or if you simply want to meet new people, catch me on Facebook (Leonardo Bristol) and maybe we can have fun together!
Comments
comments