We would like to thank very much Pinar for her amazing testimonial. Pinar was studying an ESL course abroad at EC Bristol.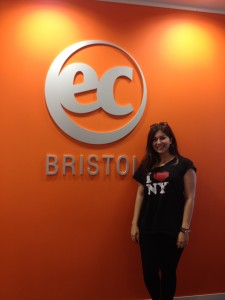 Why did you choose this destination? My cousin had been studying in EC Bristol and she told me it is a really good place so I came here.
What did you learn? I learnt a lot of things; especially that if you want to learn English don't be shy, feel self-confident and talk with people as much as you can.
How much did you improve? The lessons are really useful and they improved for sure my language.
What was your favourite EC activity? Why? I enjoyed a lot of activities such as going to the bridge, pub nights, dinner; for me all of them were really good.
What did you like the most about the school and the lessons? I really enjoyed the presentation skills class. But almost all the lessons were good.
What did you like the most about your accommodation? My homestay are really good people, whenever I want I can talk to them. They are kind and funny people.
Would you recommend EC to a friend? Yes, I had a different experience with another school but I definetely recommend this school.
Where did your new friends come from? Almost all countries but especially Spain (Juanki!!)
What did you like most about the social leaders? They are funny and good leaders, I would like a job like this 🙂
What will you remember from your stay? I think I'll remember almost everything but I will miss my Spanish friends (Juanki)!!
Comments
comments