We would like to thank very much Juan for his great testimonial. Juan was studying an ESL course abroad at EC Bristol.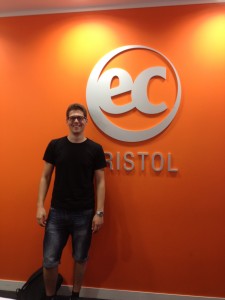 Juan, tell us what do you think about EC Bristol?
Why did you choose this destination? I came to Bristol because I had a friend here.
Thanks to EC Bristol, I have improved my English and met different people and cultures.
How much did you improve? Between 1 and 10, I think 8!
What was your favourite EC activity? Why? Pub night and Multicultural dinner because they are free and a good opportunity to meet new people.
What did you like the most about the school and the lessons? Lessons are a good opportunity to improve especially our speaking skills.
Would you recommend EC to a friend? Yes, I would!
Where did your new friends come from? China, Turkey, Italy, Spain, Korea, Switzerland and Thailand.
What did you like most about the social leaders? I've just met Ash and he always tries to speak with people.
What will you remember from your stay? It's one of the best experiences during my life because it has been amazing and useful! 😀
Comments
comments