Lunch or dinner time is the meal in the middle of the day. And at EC Bristol students and members of staff all have different opinions of the best place to eat in the city.
Students have the opportunity to chat with native speakers and enjoy food from all around the world.
After interviewing students and members of staff we have come up with a list of the top 10 best cafes and take aways in the city:
Spicer + Cole & Cafe Gusto are great for toasties, fresh juice and coffee.
Falafel King is great for Middle-eastern inspired bite.
Creperie is reknown for its savoury crepes.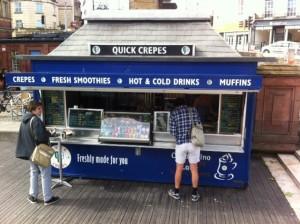 4. Want to try a West country delicacy? Head to Parson's the bakers for a traditional cornish pasty.
5. Saint Nicholas Market has a very wide variety of food from all over the world. Most notably Italian, Portuguese, Jamaican and Moroccan.
6. If you are keen on sushi, go to Obento – it is the best in the city! Our EC members of staff have a designated sushi day.
7. Still hungry? Check out Lopresti in the city centre for an award winning ice cream.
8. Domino's pizza, Pizza Hut & Subway for fast food & easy to take away.
9. Sainsbury's, Tesco and Co Operative are supermarkets where you can get sandwiches, salad, cakes and fruits.
10. Philpotts, Balwins and Boulangerie are places where you can enjoy a jacket potato and/or baguette/sandwiches at best value.
EC Bristol offers best value English lessons for the year 2014. So if you are willing to go abroad and learn English, have a look at our website and you will be able to see more information about our English courses: http://www.ecenglish.com/2014-special-offer.
Comments
comments