It's winter and it's definitely getting colder, plus it's soon time for Santa to prepare his visit to the people living all around the world.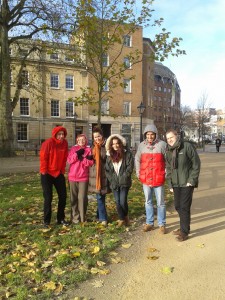 So what can you do in Bristol at this time of the year?
The EC Bristol team sorted out the five top activities to do in a winter day.
Visit Bristol Christmas Market: Get a bratwurst (German sausage) at the German stand and for dessert buy some schmalzkugeln with sugar (German doughnuts). It's really worth it! To quench your thirst and to get warmed up, have a mulled wine or a flavoured hot chocolate.
Go to the restaurant or a British pub: Have a beef stew with a good pint of Ale. Or on the weekend have a Sunday roast; try the Spotted Cow in Southville and you'll eat the best one.
Go to Spa: For a relaxing day, you should spend time at the Lido or the Relaxation Centre, up in Clifton, to have a good swim and enjoy their steam room, sauna and fitness room.
Join the Bristol Library: It's a great opportunity for you to improve your reading skills and you will be able to borrow as many books and dvds as you wish. It is also a great place to study quietly. The Bristol Library is situated close to the cathedral in College Green. Another library close to the centre can be found in Bedminster, one minute away from the supermarket Asda.
Participate in our EC Bristol English School activities (if you are a student currently studying with us): We organise many indoor as well as outdoor activities such as Karting, Football, Board Games, Visit to a museum/art gallery, Bowling and so on. Check out our Facebook page for pictures and comments.
Comments
comments