EC students read a letter and a poem about WWI by Wilfred Owen. The poem was called 'Dulce et Decorum est.'
And the students wrote a review of his work as a writing task.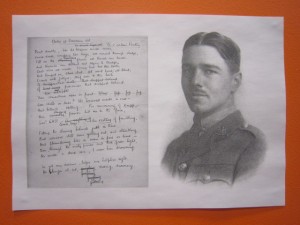 Based on the first World War, the speaker explains his experience as a soldier, physically and mentally. The main point of the poem is how the soldiers fight and die for their homeland.
The speaker can't get out of his head one of the hardest moments for him when he saw his comrade dying. It was a nightmare for him.
The weather conditions are also mentioned in the text, showing us through the words how hard they were. Most of the soldiers were semi naked, injured, sleepy and ill. Despite the sadness that this poem manifests I think it was written by a genius.
In my opinion, Wilfred Owen describes the situation giving all the details and using a lot of linguistic expressions.
We can note as well irony when he talks about his enemies as 'a friend'.
With dignity and courage he made this poem full of memories and reality.
For me, he didn't like that situation and I think he felt like he was fighting with his values. Even though he had the ability to explain what he lived for. All the poem is about glory and honour for his country but at the same time it proclaims his 'antiwar' feelings.
=====
EC offers various English Language Courses, including IELTS Exam Preparation Courses in Bristol.
Comments
comments