Yasmine is happy to share with EC Bristol her love story. She is preparing for an exam at EC Bristol.
How I met my boyfriend Marco
I was 15 years old when I saw him for the first time. He stood three meters in front of me on the bus. And this is funny because I never saw him before (maybe I did but I didn't realise altough he lived only 5 minutes away from my home). My best-friend Alexandra was sitting next to me when I told her: 'I want this man and I'll get him.' But honestly, I never though I got a chance. But then after a few weeks I found him by chance on Facebook and I added him. Unfortunately I never sent him a message because I was too shy.
One day, my roommate forced me to send him a message. She couldn't bear me anymore because I was always talking about Marco. So I took all my courage and on the 30th May 2011 I wrote him for the first time. The message said: 'Hi, was it you the guy who was really drunk on the bus last weekend?' (I know it was very rude but that's the reason he fell in love with me). He replied just a few minutes later. From that day we started to chat every day.
Once I saw him on the bus and from this day we met every morning there and talked together. After two months he asked me for a date and then a couple of months later we got in a relationship.
In october 2012 he moved in a new flat and because I already slept every night there I moved with him. We still live in the same flat together.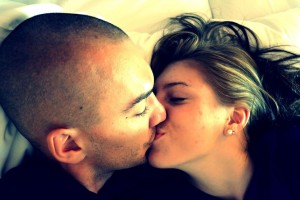 Comments
comments