Our fantastic Czech student Eva Praxova', who is currently studying General English Intermediate level at EC Bristol, would like to share her testimonial.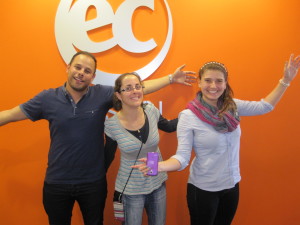 I chose EC Bristol because my friends recommended me to go there to improve my English.
In my country, I need to use English at work every day. I think that my English has improved. I'm not afraid of speaking English and that is very important for me. I met a lot of interesting people at EC School. I hope that we will keep in touch for a long time.
My friends come from Spain, Italy, Brazil and Germany. I have also met very interesting teachers.
I met Debora and her lessons are very funny. Her explanation is brilliant. She used everything to explain us unknown words and phrases; for example: hands, legs, voice and pictures.
The host family where I am staying is brilliant too. The host mother is very patient and fine. I feel like in my grandmother's house.
Comments
comments