Hi my name is Cintia. I´m 20 years old and I live in Germany.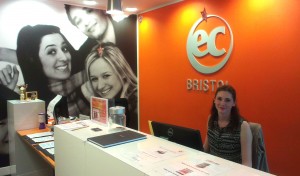 I was an intern at EC Bristol for 5 weeks and I spent my best summer for a long time!
I made new friends, had the best colleagues ever and saw different sides of England.
Fortunately I got the chance to made this unforgettable experience!
I experienced the amazing balloon fiesta and the harbour festival with my new friends. What a fantastic fireworks!
I learnt a lot about the language and the English culture. It was a pleasure for me to talk with people from other continents.
Through my work at reception I got the chance to improve my English and did office work coincident.
I absolutely recommend an internship abroad and the best address is EC Bristol!
Jools, Stella, Ilaria, Carolin, Tony, Sara, Ana, Sarah, Claire and Dan thank you for this amazing time in Bristol!! I will never forget you!
Last but not least. If you get the opportunity to stay in an host family, do it! My hostfamily cooked the best English food ever 😉
I will come back next year!
Best wishes,
Cintia
EC Bristol offers many option of English courses, including IELTS exam preparation.
Comments
comments