Vera Lutz (Swiss) was studying in High Intermediate at EC Bristol. She would like to share her testimonial about her fantastic experience in the city of Bristol.
EC members of staff would like to thank her very much for that.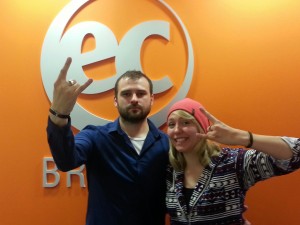 I chose EC because I heard a lot of good things and I like the city. I learned much here. I could improved my English really wel, I speak it now fluemtly and I love to speak English. I really like EC because all the bteachders are so nice and motivated! The lessons are really different and so funny.
The activities are all soooo nice, you can spend time with your friends and Luke, the activity leader, will tell you interesting things. If you have questions or you don't know what you should do after class, go to the 4th office you will find a really nice man called Jools (Operations Manager at EC Bristol) who will tell you what you can do. Thanks to him, my friends and I tried laser tag. There are a lot of people from everywhere in the world I have now friends from all over the world!
EC Bristol is a really nice school if you want to improve your English, you should go there!
Thanks for all! I'll miss Bristol!
Comments
comments