Our English teacher Andrew Rausi speaks about his rugby match with our Japanese student Kohei Fukatsu.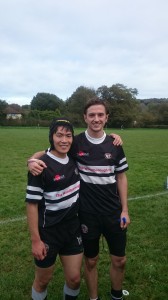 Playing rugby with Kohei was a great experience. Not only did he bring Japanese flair to the team, but passion as well, showing off his samurai spirit! His courage in coming to training and putting himself in numerous daunting positions, nevermind speaking in another language, was a credit to his character and determination to learn the language. Of course, Kohei made numerous friends and taught numerous rugby brutes about manners! He also taught them a few English words too and their vocabulary certainly improved!
It was an all-round great experience having him play with us and he will be sorely missed on and off the field but, after scoring the winning try, never forgotten!
Winscombe Rugby website: http://www.winscomberfc.co.uk/wmjreports.php?agegroup=2
Click on the link to have more information about EC Bristol English courses.
Comments
comments