Lea Roder, 19 years old, Swiss student at EC Bristol. She is currently studying in the advanced Cambridge Exam class preparation and would like to share her views about EC English Courses in Bristol.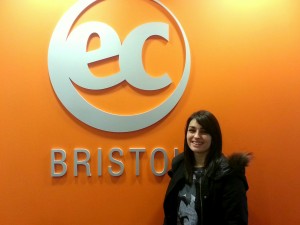 I chose Bristol because I came here on a school trip and wanted to discover more about the city. I've learnt lots since I've been here and I've improved a lot. I was planning to take the FCE exam at the end of my course but now I'm studying to take the CAE (advanced exam). I am enjoying my course and I really like the afternoon lessons at EC Bristol because they are more practical and I can practice my speaking and listening.
As for activities, I really enjoyed the guided tour of Bath and the EC activity leader gave us lots of information about the city.
I really like the accommodation. The room is big and I have everything I need. The residence building is really cool and unusual (being in a converted cathedral).
I'd recommend EC English Courses in Bristol to my friends as I like the teachers and lessons and the school is well situated in the centre of the city. All the staff at the school are lovely and very helpful.
I've made friends from Spain, Turkey as well as some from my home country and I really like the new experience of living in the UK and experiencing the different culture.
Comments
comments