Jean Louis, 13 years old, was studying at EC Bristol in a Closed group of its peers. He came here to study for a month and experience the British life.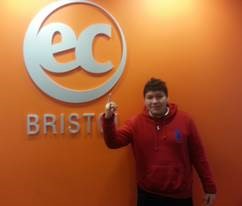 Why did you choose this destination?
It was the only destination I could choose, plus, I want to master my English.
What did you learn?
Better grammar and different words that I didn't know the definition or pronunciation of.
How much did you improve?
I'd say that if it was new, a lot, but since I already knew English it was really good.
What was your favourite EC activity? Why?
There's a lot of activities that were exceptionally good but…, I would say the Paris trip because it is a great city.
What did you like most about the school/lessons?
The teachers, Shelly and Ellie were the best English teachers I will ever have. I'll miss them.
What did you like most about your accommodation?
The owner of the house.
Would you recommend EC to a friend?
A friend recommended it to me, so I guess I'd do the same.
Where did your new friends come from?
Mostly Panama, some France and all of the British EC staff!
What did you like most about the social leaders?
They're really fun to be with.
What will you remember from your stay?
Everything.
Comments
comments