Valeria, Paola and Andrea were studying English at EC Bristol a month ago and they would like to express their feelings about the school.
Read below their three testimonials!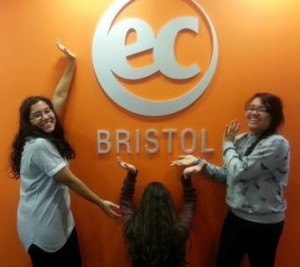 Valeria Mercedes Gonzalez Montenegro
I chose Bristol because it is on the other side of the universe. I have learned that I have been saying chocolate wrong all my life and all about that crazy little thing called 'Pronunciation'. The activities were fun. I enjoyed them.
The lessons were cool, they were very different than in Panama. It's a unique experience and I would recommend it.
Paola Del Carmen Barnett Leon
Why did you choose this destination?
Because I want to visit England and learn more English.
What did you learn?
Pronunciation and the differences between American English and British English.
How much did you improve?
Lots, really.
What was your favourite EC activity?
The aquarium, because I like the fish.
What did you like most about the school/lessons?
The teachers.
What did you like most about your accommodation?
I love my host family. All the people are great.
Would you recommend EC to a friend?
Yes.
Where did your new friends come from?
France, Nepal, Panama and Colombia.
Will you remember your stay?
Yes, because I really enjoyed it.
Andrea Isabel Atencio Herrera
I chose Bristol because it has many interesting places. I improved my pronunciation a lot and also my grammar. I loved going to @Bristol (Science Museum and Planetarium). I really loved my teachers, especially Shelly. Overall I loved my experience here in Bristol. Jools (Operations Manager at EC Bristol) is awesome!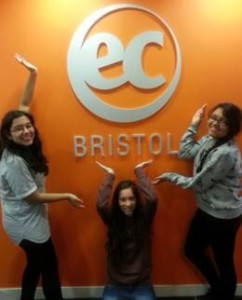 If you wish to get more information about IELTS course in Bristol, please click on the provided link.
Comments
comments