I have chosen Bristol because Boa Lingua advised me to, and London is overcrowded for me.
I received a warm welcome when I arrived. Every teachers, staff members and students put themselves at your disposal if you need some help. They all want to see you smile.
The lessons are focused on speaking and interaction with each other. I really enjoyed it. EC Bristol isn't just a simple school, it offers also a lot of cultural activities in addition to the lessons. It's during this time that I really improved my English because I could meet new people from all over the world. I made the acquaintance of people from Spain, Japan and Colombia. This way we could share our manners and customs and it's really interesting.
I would recommend EC Bristol to my friends. I will remember all the great time spent with my friends who made me laugh.
I hope I'll come back in Bristol.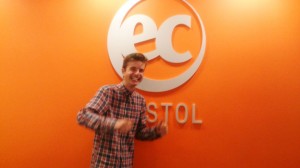 EC Bristol offers different kind of English courses. If you wish to learn more about this, please click on that link: http://www.ecenglish.com/en/school-locations/uk/learn-english-in-bristol/english-courses
Comments
comments