I'd like to share with you my story in Bristol.
When I arrived it was very difficult because I knew almost no English but my first sensation was 'The city says 'Hello Aimee' and welcome.' I felt very comfortable.
Now I'm still feeling the same but multiplied by one thousand.
In Bristol, there are a lot of things that I like: amazing street art, worldwide food, live music everywhere and the people are incredibly friendly. What you are isn't important but what is important is who you are.
I'm lucky because I've met special people in Bristol, people from different countries, people from Bristol. These people will be in my life forever, I'm pretty sure.
I visited museums, important buildings, beautiful parks & open spaces. For me, Bristol's real story is on the street.
I used to go to have breakfast at Cafe Kino to eat delicious vegan food on Saturdays.
I love the sunny days in Bristol. This is happiness when you feel good and comfortable with the environment that surrounds you!
Stokes Croft, what can I say about it? I think that is my favourite area in the world!!!
I love doing my homework at the pub called the Full Moon but I also love spending my time in the pub n.51 on Fridays or Saturdays. This place has incredible music. I love walking down the streets and seeing beautiful graffiti. I enjoyed a lot the festivals organised by the city of Bristol such as the Harbour Festival, wow, great food, music on the street. The Upfest, a graffiti festival, had amazing street art. The Hot Air Balloon fiesta…I can't explain with one word…I need time to describe my feelings on that Saturday night. Beautiful fireworks, spectacular balloons, food, music, an amazing energy! I felt love, butterflies in my stomach like when you find your other half.
In Bristol, I learned English, not perfect English, but I can improve it. The most important thing is that I learn about me.
This is my love story with Bristol. To be continued because I know that I will come back soon.
P.S: The weather is horrible, nothing is perfect but I love this imperfection.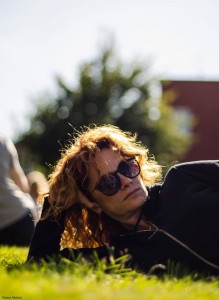 Aimee is Spanish and was studying at EC Bristol for 5 months.
If you wish to learn English and have a great experience in Bristol as well, please click on the following link for more information: http://www.ecenglish.com/en/school-locations/uk/learn-english-in-bristol/english-courses
Comments
comments