Helena from Czech Republic speaks about the Elan Valley trip organised by EC Bristol.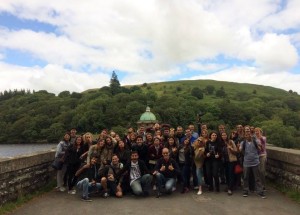 On Saturday 15th August, 30 students from EC Bristol school went on the trip to Elan Valley.
Luke, the activity leader of EC Bristol, was our tour guide for this day trip.
After we crossed the river Severn by the new bridge, our first stop was Raglan Castle.
On our way we enjoyed the scenic countryside overlooking the Pen-y-Garreg and Craig-Goch. We learned a lot about the history of the reservoirs and the dams. They were built a hundred years ago to supply clean water to Birmingham.
We had a picnic and some refreshments at Builth Wells. We were told a bit more about the flora and fauna of the Elan Valley.
We saw so many sheep!
I think it was a successful Saturday which fulfilled our expectations! 🙂
Comments
comments