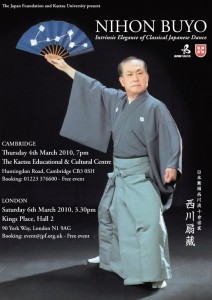 The origin of Nihon Buyo can be traced back to the 8th century. Through history, it has been developed into various refined forms closely linked with important Japanese traditional performing arts such as Kagura, Noh, Kabuki and Bunraku.
We receommend that EC Cambridge students attend this event which will definitely broaden cultural horizons and open hearts and minds.
The event will take place on Thursday 4th March at 7pm at the Kaetsu Educational & Cultural Centre on Huntingdon Road (CB3 0SH).